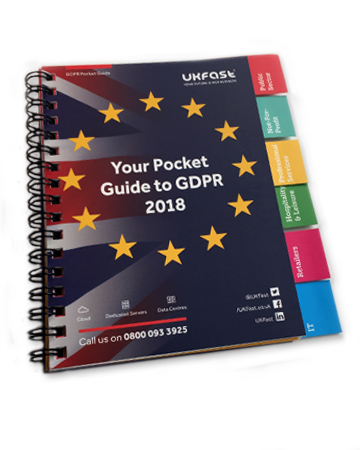 With GDPR coming into force in May next year, worrying numbers of businesses are still unprepared for the impact of the new legislation which represents a major shake up in data protection. 
UK hosting firm UKFast wants to help get businesses on the right track and is launching a free pocket guide to GDPR along with a downloadable toolkit.
The guide is broken down into sector-specific chapters and offers actionable advice, covering everything businesses need to get up to speed on GDPR compliance. It includes specialist advice for the retail, hospitality and leisure, professional services, not-for-profit, IT and public sectors. It outlines first steps and key considerations as organizations from all sectors work towards GDPR compliance next year.
UKFast CEO Lawrence Jones says:
Statistics show that many businesses are not ready, so we've created the GDPR Pocket Guide to educate the marketplace and help organizations steer clear of catastrophic fines.

It's absolutely vital for businesses to act now so they're operating within the GDPR framework by May. GDPR represents an opportunity rather than a threat, but that doesn't mean there's not an incredible amount of work to be done.

It's of critical importance to build relationships between data controllers and data processors. To understand where your data is stored is a first critical step to understanding your supply chain.

Because the liability under GDPR is now joint between processor and controller, you need to work with a partner that understands their responsibilities and has the ISO certifications to prove it.
You can order your guide and download a series of whitepapers on the UKFast website.
Original article source: https://betanews.com/2017/10/27/free-gdpr-guide/